These indoor applications allow for flexibility, creating hybrid public and private spaces for a party of one—or just a party.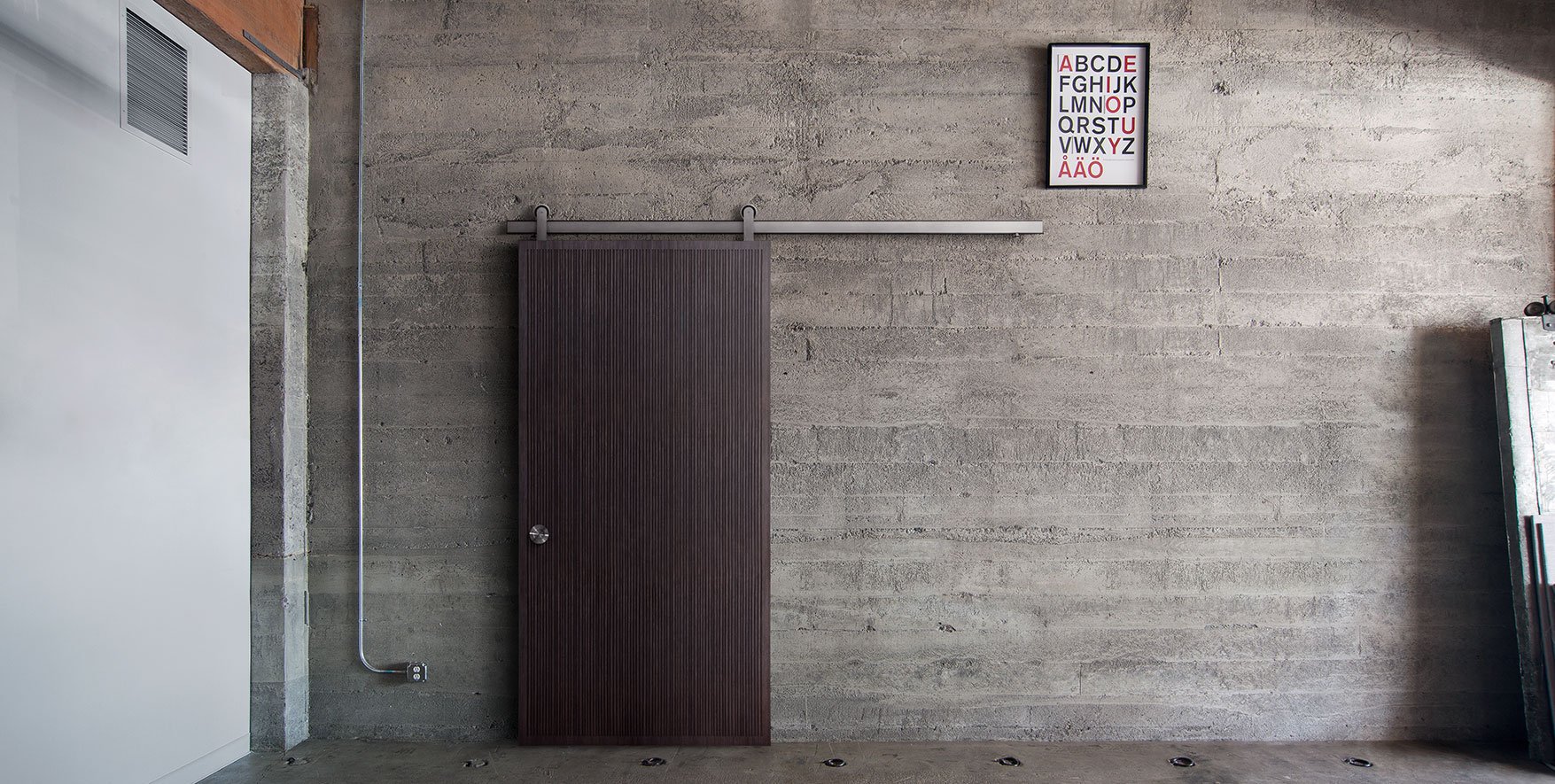 PlybooDoor
Krownlab
This barn door–style system opens on a rolling track mounted on a trolley bracket. Each panel features small slats that help to absorb sound while adding a decorative architectural element. This system is offered in six natural wood finishes and available in sizes customizable down to a fraction of an inch.
Pivoting Shoin
Lualdi
Fashioned from a glass-and-aluminum profile, this pivoting partition system creates indoor environments pleasing to pass through and view from afar. It can be integrated with operable and fixed panels and is available in a palette of woods, metals, and glossy and opaque lacquered colors.
glassBOX–F
Carvart
This glass cubicle system incorporates multiple glass panels that slide to-and-fro. It incorporates a front panel on a plane that is steadily secured by an overhead bar. Views from the other side are obstructed by a privacy trim that lines each door and divider.
Acousti-Seal Continuously Hinged Automated Wall System
Modernfold
This hinged partition is connected to create one complete system: a continuous interlocking panel. The setup time is speedy with the help of an electric motor that triggers opening and closing with a simple push of the touchpad.
Series 600
Hufcor
A clever set of multiple moveable flat panels lets the user choose what area of the wall to shut or open. Available in 3- and 4-inch thicknesses, the welded steel frame makes the system great for very tall ceilings.
Fireframes with Pilkington Pyrostop
TGP
Narrow steel profiles support Pilkington Pyrostop fire-resistant glass, creating seamless modular glass systems for offices and other commercial applications. The doors can be assembled as single or double leaves.
LC Privacy Glass
Innovative Glass
Creating on-demand privacy with the flip of a switch and a voice command, this glass comes equipped with digital technology that instantly changes the face of the glass panels from transparent to frosted.
Accordion Folding Wall
PK-30 System
The panel suspension located in the middle of the partition allows the door to slide without a bottom guide channel track, which means space will appear seamless when the door is open.
SPW4S
Raydoor
This Folding End opening system comprises opening panels that neatly stack to the side, allowing easy passage between the screen areas. It can be installed as a single or pair of doors and is offered in laminate and veneer finishes.